If  you haven't been already, you are missing out on the experience. One of the most loved & talked about feature of our Warwick restaurant has been the Bedouin Tent in the rear garden Terrace.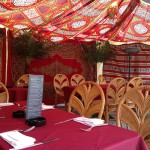 The mood of Aqua where you can have pre meal drinks or after, relax with a mint tea & sheesha (arabian fruity waterpipe), or just kick back with a glass of wine & enjoy the tranquil arabian music in the ambient candle light. The Bedouin tent is open just for drinks too & makes an amazing alfresco area in the summer!
The food & mood is at Aqua…….