[vc_section][vc_row][vc_column][vc_column_text][layerslider id="2″]
test!![/vc_column_text][/vc_column][vc_column][vc_column_text css_animation="fadeIn"]
– Welcome to Aqua Food & Mood –
The finest authentic Lebanese cuisine
[/vc_column_text][/vc_column][/vc_row][/vc_section]
[vc_row][vc_column][vc_column_text]
[ichcpt id="1259″]
[ichcpt id="1256″]
[/vc_column_text][vc_row_inner][vc_column_inner width="1/2″][vc_column_text css=".vc_custom_1492702912276{margin-top: 25px !important;}"]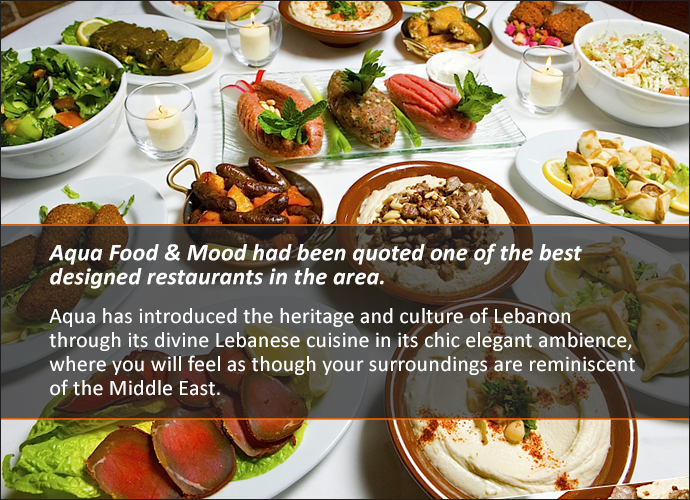 [/vc_column_text][/vc_column_inner][vc_column_inner width="1/2″][vc_column_text css=".vc_custom_1492703137025{margin-top: 2px !important;}"]
We have decided to keep a very traditional menu with a huge choice of vegetarian dishes where primarily Lebanese cuisine is a lot of meat.
With hot and cold starters, mezze and mouthwatering grills and salads, there is something for everyone.
Our policy is to use premium produce and our chef only cooks fresh on order. We boast an exclusive wine list hosting some of the worlds renowned Lebanese wines.With separate dining areas we can host large parties, corporate and family dinners or just a romantic table for 2.A huge attraction since its opening has been the Bedouin style sheesha garden terrace where you can relax and enjoy a tradition most common to the arab world.
The sheesha is a water pipe which you can smoke fruit flavoured molasses whether it be after your meal or just with a drink.[/vc_column_text][/vc_column_inner][/vc_row_inner][/vc_column][/vc_row]
[vc_row][vc_column][vc_row_inner][vc_column_inner][vc_column_text]




[/vc_column_text][/vc_column_inner][/vc_row_inner][vc_row_inner][vc_column_inner][vc_column_text]



[/vc_column_text][/vc_column_inner][/vc_row_inner][/vc_column][/vc_row]